Since CHM is a ministry serving you, we don't have a provider network that you must abide by. You're free to choose your own provider; however, your medical bills must fall within the CHM Guidelines to be considered for reimbursement.
CHM has worked with more than 100,000 healthcare providers nationwide. However, it's important you understand that as a CHM member, your healthcare will be handled by you, the patient. This means that healthcare providers should bill you directly, after which you can submit your bills to CHM. Here are some helpful tips for interacting with your provider.
1. Tell your healthcare providers that you're a self-pay patient, show them your CHM card, and explain you would like to be billed directly
Your CHM card is not an insurance card. However, it is important to show your card to your provider to identify yourself as a CHM member to take advantage of any available discounts that CHM has prearranged with select providers. Work with providers to obtain itemized medical bills. An itemized bill contains: 1) the patient's name; 2) the date of service; 3) the place of service; 4) the procedural (CPT) codes (or description of services rendered); 5) an itemized list of charges.
2. Ask your provider for a discount
Most providers offer discounts for self-pay patients, so don't be afraid to ask for a discounted rate.
3. Apply for any financial assistance available to you, even if you don't think you qualify
Most hospitals are required to provide certain types of medical care for free or at a reduced cost. As self-pay patients, CHM members may qualify for financial assistance programs which are offered by the hospital. Likewise, state and federal governments also allocate money toward healthcare for individuals whose incomes fall within a defined economic level.
4. Please don't pay upfront (unless the bill is less than $1,000)
Prior to paying bills totaling $1,000 or more from an individual healthcare provider, please contact Member Advocate when the following circumstances apply:
You're unable to obtain a self-pay discount
You obtain a significant discount, but the provider has a deadline for payment, and you're unable to pay out-of-pocket.
5. If necessary, set up a payment plan with your providers
Work with your provider to set up a monthly payment plan until your eligible medical costs have been processed and reimbursed in accordance with the CHM Guidelines.
6. Promptly pay your provider(s) when you receive funds from CHM
Every membership unit must satisfy a yearly Personal Responsibility; this is considered your out-of-pocket expense. Once this amount is met, you will receive reimbursement for the remaining eligible medical costs. It is your responsibility to use funds received from CHM to pay the appropriate healthcare providers.
7. Maternity only: at your first prenatal checkup, ask for a prepayment agreement
Obtain and submit a global fee from your OB/GYN as soon as possible. It must include the following itemized information: Provider name, description of service or CPT codes, charge amount, and payment due date.
Submit the prepayment agreement or flat rate from the hopsital, if provided. It must have all of the itemized information listed and specify the length of the hospital stay and whether the newborn charges are included.
See our Maternity Guide for more info, including a maternity guide, how to reduce your Personal Responsibility amount and more.
Billing made easy—and two tools to get you started
Pay attention to the characteristics of your contractions. How often are they happening? How long do they last? How uncomfortable are the contractions?
If you like, you can time and track your contractions on paper or within a mobile app. Timing contractions can help you tell the difference between true and false labor contractions and help you figure out when it's time for you to head to the hospital or birthing center.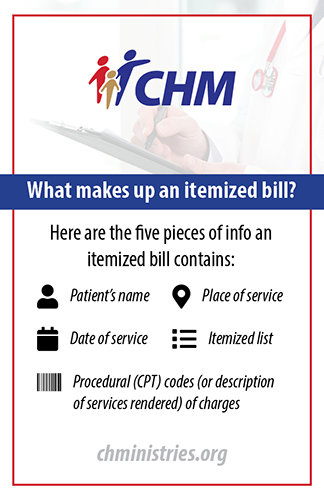 What makes up an itemized bill?
Save this pocket-sized explanation of the five elements that are included on an itemized bill. Doing so will enable you to quickly share with healthcare providers what CHM needs in order to process your sharing request.